Keeping wounds dry so they can heal
When a wound is not properly protected it can become infected and the healing process can be slowed down. Proper protection can mean, for example, keeping wounds dry. With a waterproof plaster, you can therefore reduce the risk of infection and promote better wound recovery.
To protect your wounds against water, consider the
Elastoplast Aqua Protect Plasters
that offer 100% waterproof protection. Their reliable adhesive keeps the plaster in place even after coming into contact with water. They're also flexible and breathable, allowing greater conformity to your body's movements – which translates into more convenience during the healing process. In addition, by combining a transparent adhesive strip with a light beige woundpad, this new version of
Elastoplast Aqua Protect
is very subtle and can go practically unnoticed.
EXPERIENCE A NEW LEVEL
OF DISCRETION
For more general information about the effects of water on wounds and why it's important to keep them dry, you can read
The truth about water and healing
. For tips on how to keep your wounds dry, go to
Better protection for better healing
.
Keeping wounds dry can help them heal properly
Back to top
---
Developing Aqua Protect
Due to Elastoplast's commitment to high-quality wound care, products are often revisited to ensure that they continue to serve your shifting needs and preferences. It was this commitment to offering relevant, state-of-the art plasters that led to the developed version of the
Aqua Protect Plaster
.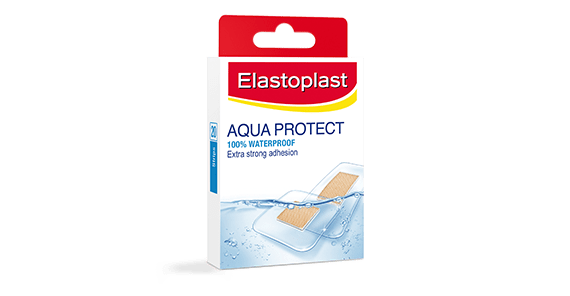 As with all Elastoplast products that have been selected to undergo a redesign, the current version of the product was examined carefully, and product developers asked themselves how it could be improved upon. They developed several prototypes and then chose the best one. This prototype was then tested in real-life conditions and evaluated. The results showed that 100% of the time the plaster stayed secure and continued to protect their wounds after 6 hours – and 97% of the time the plaster continued to stick even after 8 hours.*
Studies show Aqua Protect plasters keep wounds protected for up to 8 hours
In summary, these new Aqua Protect plasters offer 100% waterproof protection and strong adhesion for reliable protection.
*Claim Support Testing Waterproof Film Plaster, In-use test, 75 participants, December 2012
Aqua Protect plasters adapts to your movements and stay in place when wet
Aqua Protect at a glance
The new
Elastoplast Aqua Protect Plaster
offers 100% waterproof protection. It combines a light beige woundpad with a transparent backing for ultimate discretion. The high-performance adhesive guarantees extra strong sticking power to keep the wound protected for up to 8 hours after it's been applied – even after coming into contact with water.
Back to top
---
Other waterproof solutions from Elastoplast
These Aqua Protect solutions are also helpful in keeping wounds dry and free from infection:
The Elastoplast Antibacterial Plaster protects larger area wounds against water. Its large, non-stick wound pad includes silver for an antibacterial effect that reduces the risk of infection.
For smaller wounds on your fingers and hands, the Elastoplast Heavy Fabric Plasters provides 100% waterproof protection with ergonomically shaped plasters.
The Elastoplast Water Resistant Plaster is the first waterproof plaster with flexible woven backing material. It conforms and stretches with your movements, dries quickly after coming into contact with water and is breathable.
Using the right plaster for your wound can keep it dry and prevent infection
For extra durable, waterproof protection consider the
Elastoplast Heavy Fabric Plaster
. It is the first heavy fabric plaster that combines waterproof wound protection, durability and flexibility in one wound care solution.
Back to top
---
The Elastoplast Heritage of Healing
For over 90 years Elastoplast has been committed to helping wounds heal. Take a moment to read through the defining highlights and milestones in the interactive timeline – and experience the major chapters of our heritage and the heritage of Beiersdorf.
Always see your doctor if the wound is deep, bleeding or shows signs of infection like reddening, swelling or warmth.
Also make sure to seek medical help if you are not able to clean the wound properly.
In case you have diabetes, a proper wound care is of special importance. Always discuss any concerns you may have with your doctor and/or podiatrist, even for the care of minor wounds and skin cracks – especially on your feet.
Please note that none of the above given tips or recommendations substitute medical advice. Carefully read the instructions for use given in our products' packages. Important: consult a health professional in case of any uncertainty of treating your wound properly.
The information provided through this website should not be used to diagnose or treat a health problem or disease. It is not a substitute for professional care or advice. If you have or suspect a health problem, you should consult your doctor. Never disregard professional medical advice or delay in seeking it, because of something you have read on this website.
For further information regarding Elastoplast products, please contact us via email on Consumer care: ConsumerSA.External@beiersdorf.com or phone: 0860 102 091. Carefully read the instructions for use given in our products' packages.
Back to top